Our
garden
produces bumper crops of vegetables interspersed with flowers and the more than occasional weed (many of which are quite edible). Among the bounty are bushels of bird houses ... actually bird house gourds, which when dried, drilled, and hung, are frequently put to good use by birds.
This summer, one of our gourds was home to a pair of wrens. When their young 'uns were nearly fully feathered, and for reasons we can only guess, the parents disappeared. After long hours of waiting fruitlessly for them to return, we took the babies inside.
For the next 11 days, we were on almost continuous nursing duty, feeding them a concoction we came up with, along with aphids and assorted other bugs. When they outgrew the small box we had first kept them in, we built a cage, and furnished it with twigs, which they loved. When that closed in on them, tree branches and moths filled our guest room as the babies learned to fly and feed themselves.
Our hearts broke over the few who didn't make it, but the day came when the guest room was too small, they could eat on their own, and the greater world beckoned the four who remained. So we opened the window and watched as one by one, they flew off.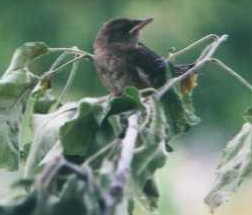 We sure fell in love with those little wrens, as did the six of our nine grandkids who got to meet them -- Andrew, Stephen, Josh, Caity, Alison, and Lucy. It was a wonderful, grueling experience. We miss them terribly, and have great compassion for every parent who is now dealing with the empty nest syndrome.
Next time we rescue orphaned birds, which we hope won't be for a good long time, we'll raise them to be more neurotic. They never stop by, call, or write.